Homebuyers and sellers should come prepared with the following items to make the closing experience as seamless as possible.
BUYERS
Two forms of ID
A valid driver's license and one of the following: social security card, passport or resident alien card.
Funds for the closing
Either a wire transfer (with the bank confirmation) for the amount outlined by your escrow officer, or a cashier's check made out to Texas Title. Please know we are required to call the bank where the cashier's check was issued to verify the availability of funds. Call us before you wire and always ask questions if you have them.
SELLERS
One form of ID
Valid driver's license or government-issued photo ID.
A voided check or your banking information
Bring this if you would like us to wire transfer your funds after closing.
Alert your escrow officer if there are any changes to your marital status after signing the contract prior to closing. If you are using a power of attorney, the original executed document must be reviewed and approved by the title company prior to closing. The title company is required to contact the person granting power of attorney on the day of the closing.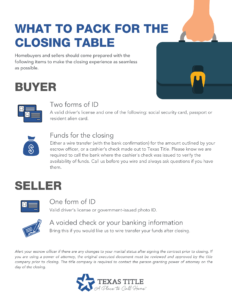 Download the What to Pack for the Closing Table PDF flyer
<![endif]-->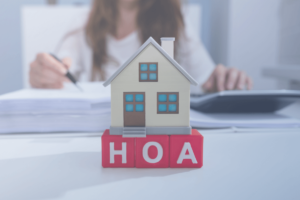 The new TREC Addendum for Property Subject to Mandatory Membership in a PropertyOwners Association combines two paragraphs in the previous version which canpotentially cost the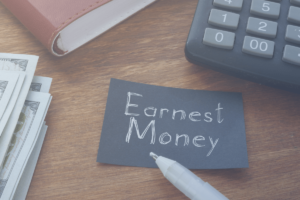 The new Trec Contract requires Earnest Money and Option Fee to be payable anddelivered to the Escrow Agent. Delivery can be either via check, wire